District 2 News aims to be produced by, for, and with residents of District 2. To share a story or become more involved in D2N, please contact AthensDistrict2News@gmail.com
By Buket Urgen
Stephanie Renee Toliver, a PhD student at the University of Georgia, has started a book club for young black girls in the community who are interested in science fiction and fantasy books. The book club is called the Sista Circle.
The group, which consists of about a dozen eager girls ranging from ages eight to seventeen, meets once a week at the East Athens Community Center. Together, they read, discuss, and write about fiction books whose central protagonists are black and usually female.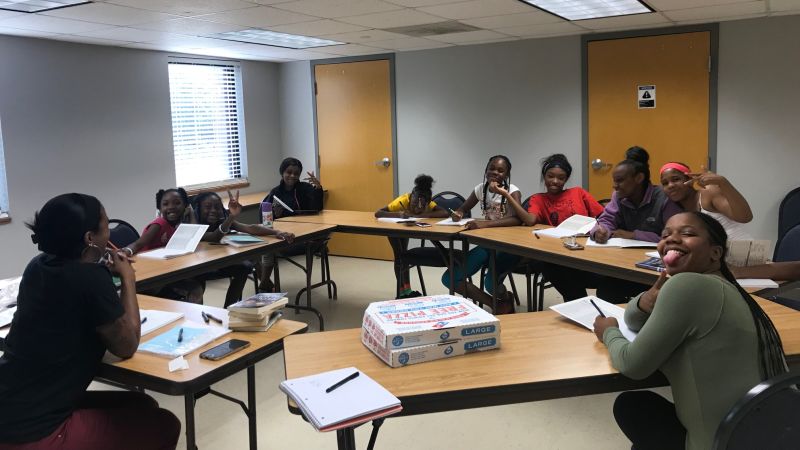 The first book they're reading is The Ninth Ward by Jewell Parker Rhodes. It tells the story of a young girl, Lanesha, and her caretaker, Mama Ya-Ya, as they try to navigate the oncoming hurricane Katrina in New Orleans.
Stephanie started the Sista Circle because she felt there was very little thematic variation in the books read in schools that feature black women. Oftentimes, these books focused on slavery. Stephanie wanted to go beyond this stereotype by introducing these kids to science fiction and fantasy novels.
The loosely structured book club is something that all the girls look forward to. It's different from being in a classroom. The girls are free to participate as much or as little as they wish. The group usually begins with a small literary activity to ease the girls into the reading. Then they read as a group or they break off into smaller groups. Towards the end of their time, they come back together as a group to discuss.
The Sista Circle lives up to its name. The room is filled with contagious laughter and a sense of community. The book club is only just getting started, but the girls are already having plenty of fun.