District 2 News aims to be produced by, for, and with residents of District 2. To share a story or become more involved in D2N, please contact AthensDistrict2News@gmail.com
By Joe Lavine
It was 1995 when the police killing of 20-year-old East Athens resident Edward Wright drove community members into an outpouring of marches and protests, demanding changes to the police department. The direct actions were effective and ultimately led to the hiring of Chief Jack Lumpkin, who helped usher in an era of "community-oriented policing".
It's now been over 20 years that the ACC police department has committed itself to community policing, but this past summer has shown that police violence, community distrust, and the disproportionate arrest rate of Black Athenians hasn't gone anywhere.
"There's a lot of distrust in the community," District 2 Commissioner Mariah Parker said at a forum on policing last month. "When I go to Cone Dr. or Booker St., I hear people talk about wanting to feel safe in these areas without being harrassed by the cops, not because they are feeling unsafe from the people who live in those communities."
The forum, which was co-hosted by Athens Anti-Discrimination Movement, Athens Immigrant Rights Coalition, and Athens For Everyone, focused on the future of Athens policing at a time when that future seems up in the air. The County Manager's office has begun their search for a new police chief, and as a new slate of Mayor and Commissioners is set to take office in January, many see an opportunity for significant changes to the police department.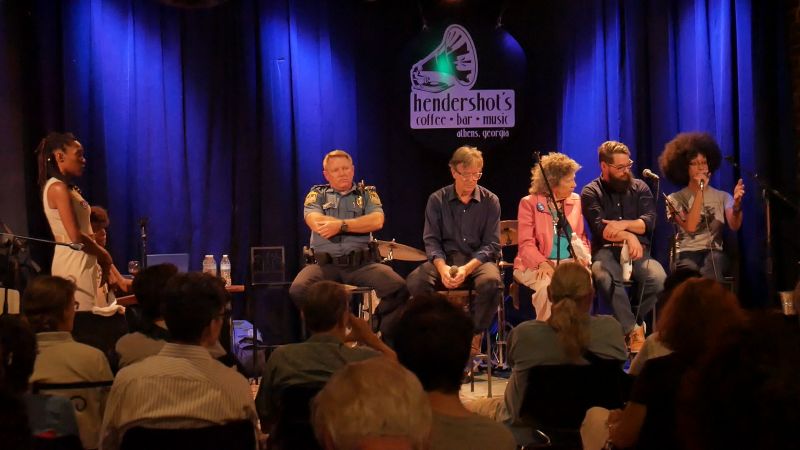 Interim police chief Mike Hunsinger, who was also at the forum, defended the police department as it is currently. He stated that their department's training "produces some of the best officers in the state of Georgia" and that each officer's job is to "get out of that patrol car, walk those neighborhoods, walk those businesses, and get to know people."
Soon-to-be District 5 Commissioner Tim Denson said otherwise, stating that he had heard reports of officers refusing to get out of their cars to engage with community members. Any casual observer of Triangle Plaza will also tell you that police officers lurk in their cars more often than they get out and engage with people.
But Denson also made the point that even if officers were practicing community policing, something much deeper has to change.
"How are you going to get people in the community to buy in to [community policing] when historically they've been oppressed by these same people?" asked soon-to-be District 5 Commissioner Tim Denson at the forum. "There is no silver bullet here. Community policing is not going to solve this issue - it is systemic."
In response, Hunsinger spoke about the shortage of police officers and stated that the department needs more officers in order to do more effective community policing. Commissioner Parker, however, pointed out that the shortage of officers hasn't resulted in an increase in crime. In fact, crime has gone down. Instead of more officers, Parker offered another solution.
"I think that while the chief wants to see more cops as a means of creating more relationships between the community and the police, I think that we should shift the way that we invest money in the community towards programs that are going to prevent people from becoming targets of crime."
The organizations that hosted the forum also released a list of demands going forward. First and foremost, the groups are calling on the Athens-Clarke County Manager, Mayor, and Commissioners to extend the timeline for hiring a new chief and to involve the community in the hiring process.
"To allow for meaningful community input, proper vetting of candidates' alignment to community priorities, and space to confront some larger issues around ACCPD culture, the County Manager should extend the deadline for prospective Police Chief applicants beyond the October date."
The organizations are also calling for restorative justice practices in ACCPD, and for the establishment of a Citizens Police Accountability Board. This citizens board could have the ability to hire and fire officers, prescribe new tactics for policing, and control the annual budget.
"This board must be designed to include stakeholders disproportionately impacted by police misconduct including, but not limited to, people of color, under-documented individuals, queer and trans folk, and young people."
What kind of changes would you like to see in the police department? Let us know at AthensDistrict2News@gmail.com or call 404-932-5767.