District 2 News aims to be produced by, for, and with residents of District 2. To share a story or become more involved in D2N, please contact AthensDistrict2News@gmail.com
By Kirrena Gallagher
Cedar Shoals High School teacher Jesse Evans took Civics and Government education to new heights this year. With the help of The Economic Justice Coalition more than 100 students age 17 and older were registered to vote.
Through the coordination and support of community members, school administrators, community partners and students, more than 50 students exercised their right to vote on October 24th during early voting. You can check out pictures from the event on Facebook and Instagram by using #CedarVotes You can also follow Cedar Shoals High School on social media. The school is welcoming to all visitors and open to having community member's engagement.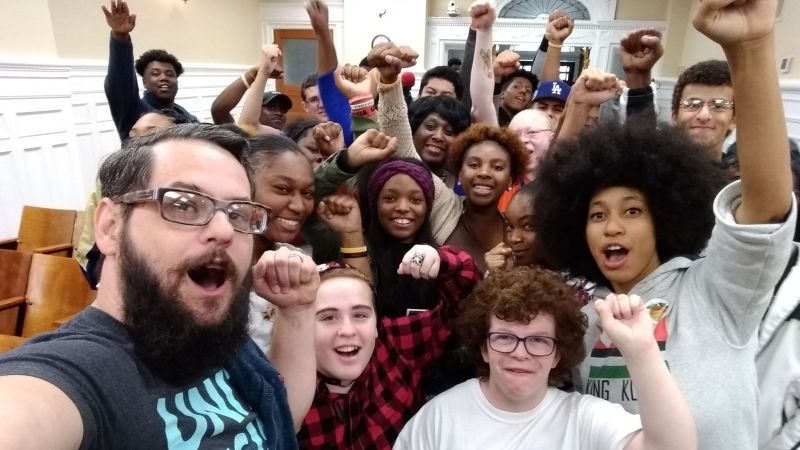 Coile Middle School recently celebrated two of their students who received the REACH scholarship. Per their FB page: Our Cougars REACH high as they sign a contract as a REACH Scholar to agree to maintain good grades, exhibit good behavior and be regular in attendance throughout their high school years. Scholars who successfully complete the program and graduate from high school are awarded a $10,000 scholarship ($2500/yr)) that can be used at a University System of Georgia, Technical College System of Georgia or eligible private post-Secondary institution. We are so very proud of our Cougars!!!
While I'm sharing these "Proud To Be" moments, I'd also like to thank teachers like Mr. Rushing, a 6th grade math teacher at Coile who is not just enthusiastic in the class room (trust me, I've seen it) but one who arrives at school a couple of hours early to tutor students.
Mr. Brent Andrews, Cedar teacher, has been a true advocate at CCSD Board Meetings. He's also providing leadership through the Teacher Advisory Board and behind the scenes, he is on top of the research on closing the achievement gap.
Ms. Katie Johnson leads a leadership class at Cedar. She brings in community leaders every Thursday to speak to students on a variety of topics, encouraging students to find their place in the world of activism, leadership, and service.
Ms. Reneta Elder, Government and Civics teacher at Cedar, tutors children of all ages in reading through her program Destined Inc. with her sister School Board member elect Dr. Tawana Mattox.
D2, I think we may just give the Westside a run for their money. Let's support the schools serving our students. We have some great things happening on the Eastside.
Share your Proud To Be moments and teachers with us. Let's get the word out that on the east side, we have the brightest and the best. You can share your story with D2N by emailing AthensDistrict2News@gmail.com or call 404-932-5767.